My birthday was July 30th, and since I figured I probably wouldn't be up for a party, I asked Jer if we could have a mini getaway the next weekend instead. We booked a nice (nicer than what we usually get anyway. Remember, we met at a Knight's Inn) hotel in Pasadena for a Saturday night. I deemed the entire weekend a Staycation, though.
Friday night at home we watched This is The End, which I thought was hilarious. I always like that group of people's movies though.
Saturday morning, I made us delicious blueberry pancakes.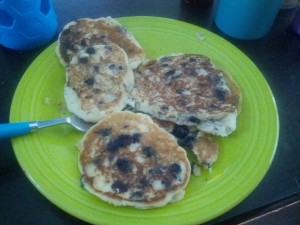 Pancakes are a pretty regular weekend thing in our house but the blueberries made them extra staycation-y.
We finished packing and drove out to Pasadena. Our first stop was Real Food Daily, a vegan place we've been meaning to check out. I had a burrito and Jer had a reuben. Classsssic Jer. He loves his reubens. The food was really good, but pretty expensive. But hey! Staycation!
For dessert we went to KindKreme, a vegan ice cream place that was awesome!! I got a maple tamarind shake. Yummm. Jer got butter…something. Not butterscotch. His was great too. They make all the ice cream there, and it is awesome.
We checked into our hotel and took a nap in the big fluffy bed.
 We walked around downtown for a couple hours, checked our a couple stores (including the Container Store, which made me want to organize EVERYTHING) and then had a late dinner at All India Cafe. This place was AWESOME! We got a vegetarian combo meal for two. For $35 we got samosas, three entrees, a side, rice, bread, and dessert. And it was all delicious. We were a little overwhelmed when they brought out all the food.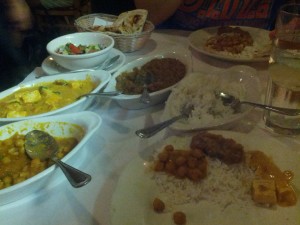 But then we ate ALL of it.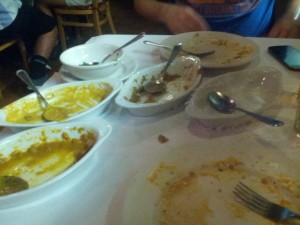 We went back to the hotel, watched some TV, and went to sleep. On Sunday, we checked out the little farmer's market down the street and got some delicious almond-based hummus– habanero, jalapeno cilantro, and chipotle flavored, to bring home.
I was a little stressed out before we went, thinking we needed to make it SO SPECIAL since it is likely our last trip together before the baby gets here, but when I told Jer this he told me not to stress– that it's just a little birthday getaway. Since I was trying not to put so much pressure on it, and because it was so laid back, it was a really nice, relaxing time! And of course, it was mostly food and sleeping. Perfect for a pregnant woman. And in general, we are both fans of both of those things.