We spent July 1-14 in West Virginia and it was awesome! We got to spend so much time with family and did so many cool things.
Our connecting flight was delayed and we had a long layover in Phoenix. Thankfully, they had an awesome kids area and Jonas had fun rolling around on the tumbling mats. One little girl showed him how to do some stretches and he copied everything she did. It was so cute!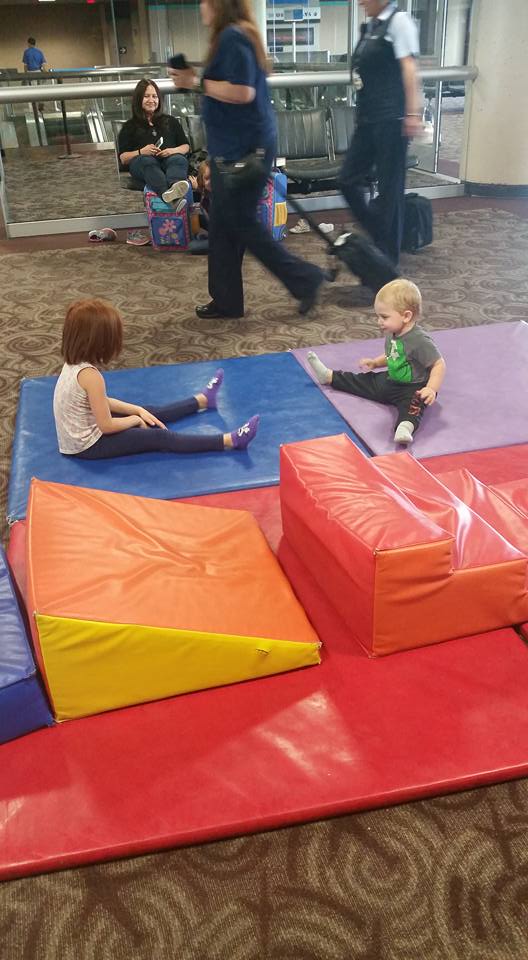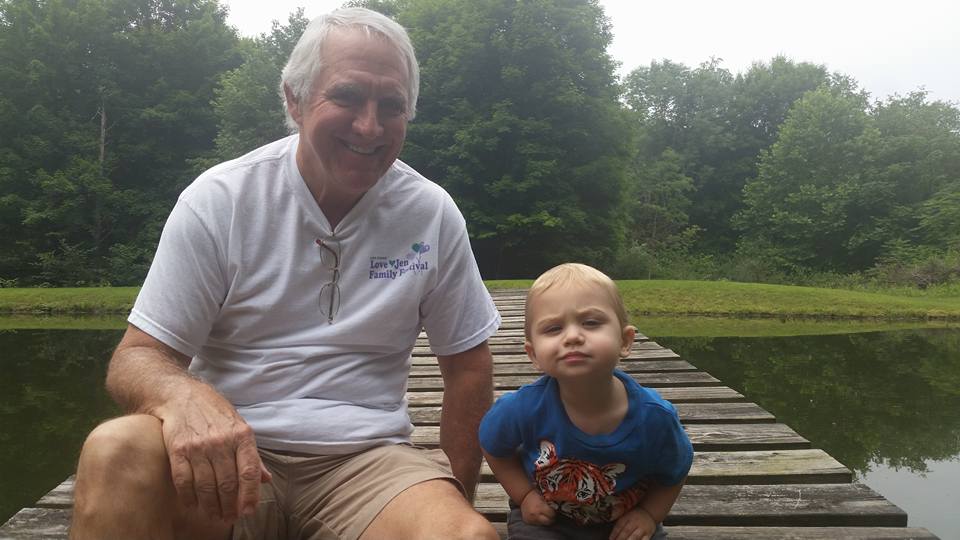 We spent the first part at Nick and Wendy's house and Jonas had so much fun feeding the fish from the dock my cousin Rachel and I built with my dad and hanging out with his cousin Jackson.
We celebrated Jackson's 2nd birthday and I don't know whether Jonas was more excited about the Curious George theme or the cake.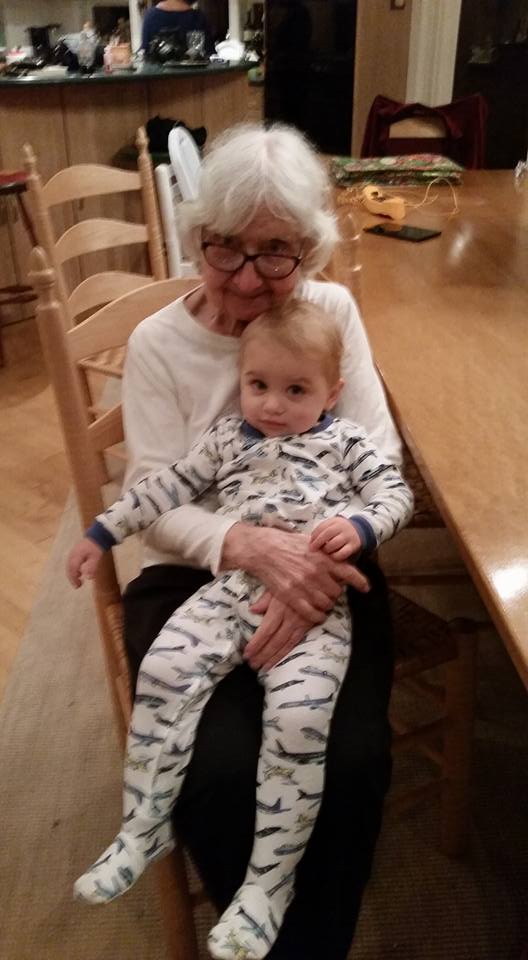 Jonas loved snuggling with his Great Grandma and decided to call her Aunt Kate Grandma, a combination of the names he heard people calling her.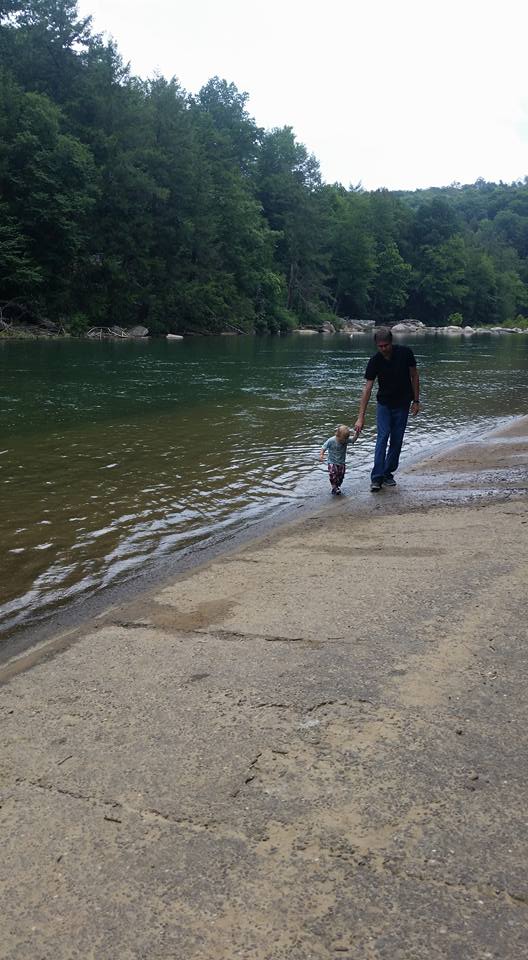 We visited Audra State Park, went on a little hike, and checked out the river.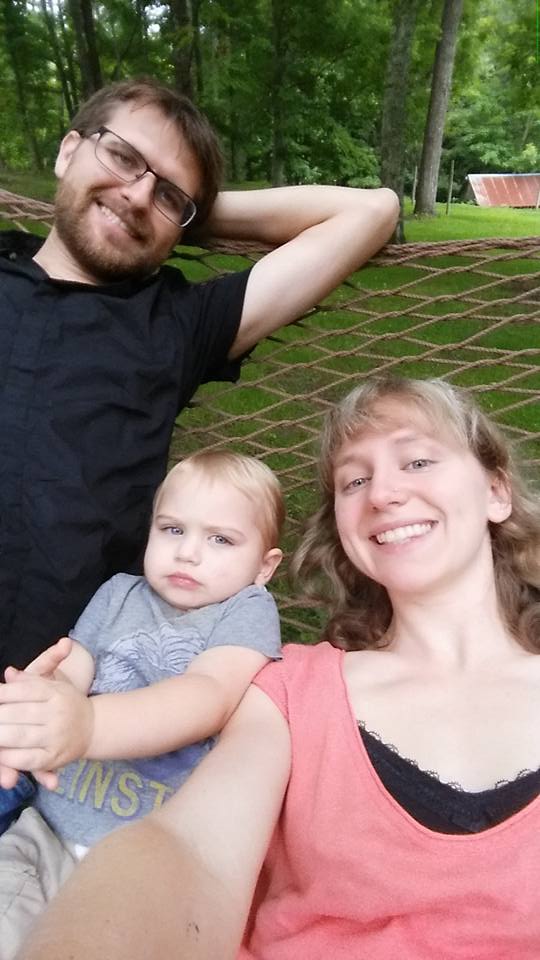 Jonas learned a new word: "Hammock."
The second part of the trip, we stayed at my mom's house.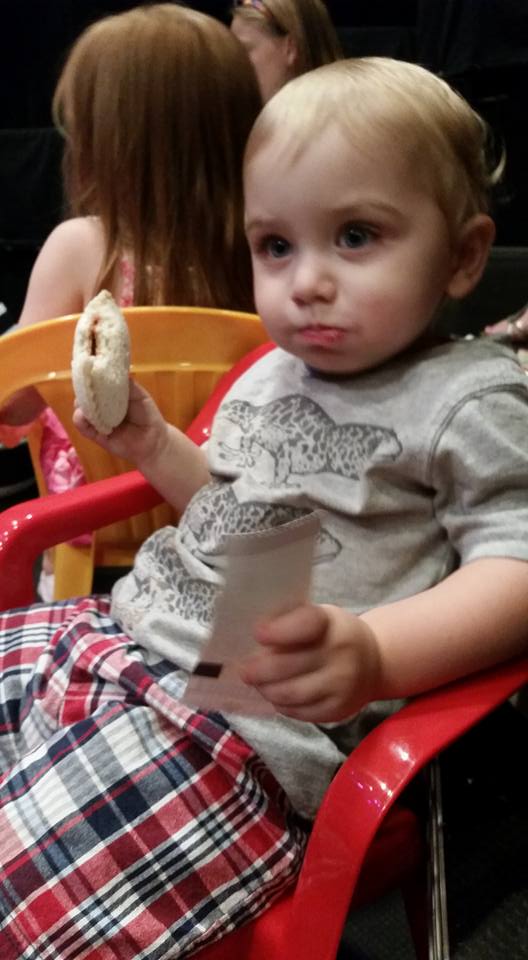 The first night we were there, we went to a play– Harold and the Purple Crayon. They served peanut butter and jelly sandwiches. Jonas loved it and he got really into the play. He loved the antagonist, Mr. Smudge. After the play, the actors waited outside to meet the kids and sign autographs and Jonas was completely overwhelmed. He wanted to take a picture with Mr. Smudge but then would burst into tears. When we took him away, he would cry that he wanted to take a picture with him. He eventually settled on giving him a high five.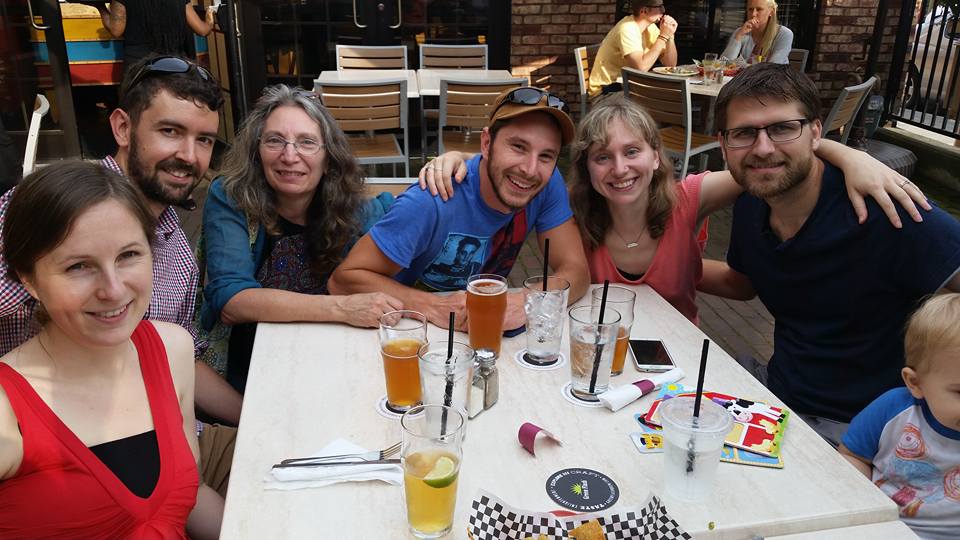 My stepsister, Amelia, and her boyfriend Mathieu were in from Ireland, and my stepbrother, Alec, was in from Northern California and it was great hanging out with everyone!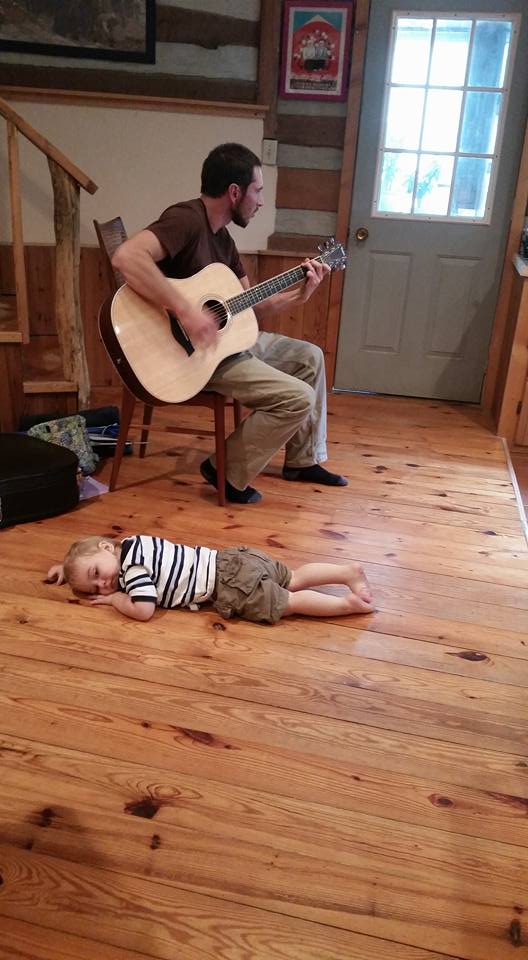 Jonas loved his Uncle Alec and hung out next to him on the floor while he played guitar. Alec took him to pick blueberries outside and after that, Jonas asked for him the rest of the night.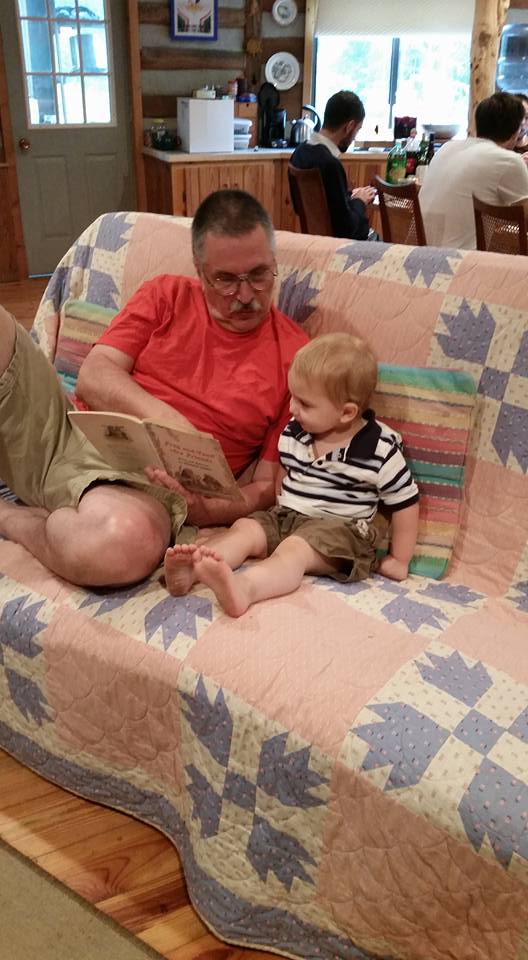 Grandpa read "Frog and Toad Are Friends."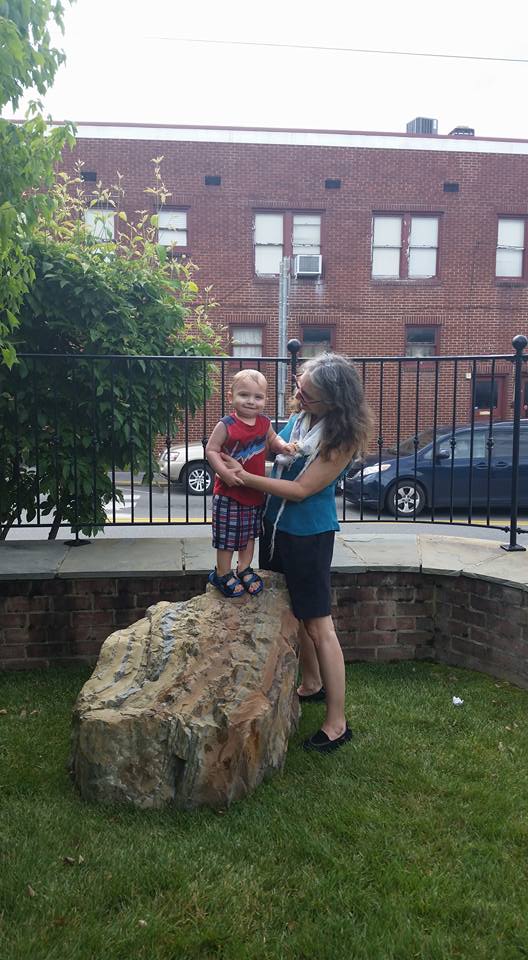 We went to the fountain in town and Jonas had fun splashing and climbing on rocks.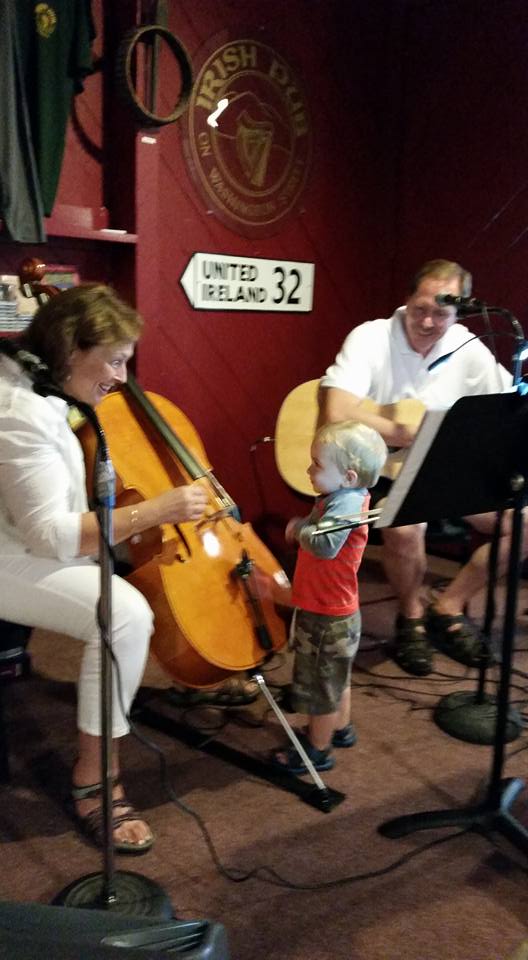 At the Irish Pub, Jonas loved putting money in the tip jar and other people who were there would give him money to put in. The musicians let him come on stage and help them play and he was so excited!
There are a couple memories from this trip I know I will remember:
Even though the rest of the family did fireworks on July 4, Jonas and I waited because Jared really wanted to see Jonas's reaction and he didn't get in until the night of the 4th. We tried again on July 6th. We all went down to the pond and set up the fireworks on the dock and got s'mores ready for the firepit. I had had Jared buy vegan marshmallows for us and bring them with him. We had the chance to make one s'more and set off a couple fireworks before it started pouring down rain. It was just such a family moment, everyone rushing to gather things up, help my grandma back up to the house, and me, Jared, Jonas, and my cousin Katie, staying down to try to get in one s'more before we got soaked.
Another night, at my mom's, Jonas and I went outside just at dusk and caught fireflies. It was light enough that I could see them to catch them more easily, and so that I could see his face but dark enough that we could see them lighting up. He got so excited when I would go to catch them. It was just completely magical to him. Remembering catching fireflies with my dad as a kid, and then seeing Jonas's face light up while we did the same thing together, was amazing.
We missed Bubby and Grandpa as soon as we left but we are happy they will be here in a few weeks!