I've been holding on to $50 in my wallet since June. Daddy died in September of 1999. This year, my mom discovered he had some unclaimed property, and his cousin Nick helped her obtain it. It was eighty something dollars and after going through a whole ordeal to claim it, Nick rounded up, giving my sister and I each $50.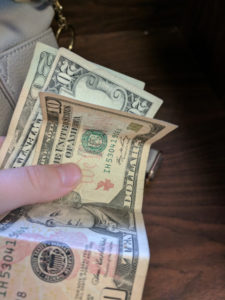 For my birthday on July 30, I thought about using the cash to pay for a pedicure, tearing up, thinking it would be like my dad was giving me a birthday present. No, I thought, I wanted it to be something I could keep.
So I kept the cash in my wallet, waiting for the perfect gift from my dad, 18 years after his death.
A beer, maybe. My dad never got to buy me a beer. I could put it toward an ISBN for the book I want to publish, or toward paying a friend to do some editing. Maybe a mala or singing bowl. A meal. A comic book.
There are so many things he never got to give me.
Maybe I should buy something for my children, I thought.
There are so many things I never got to give him.
Daddy wanted a son. He loved me and my sister but I know now he ached for a son the way I ached for my own daughter. Jonas would have been worth the wait.
He would have loved my children so much. I can almost picture them walking through the woods together. Jonas would have loved a bebe gun and I would have sounded like the mom from A Christmas Story. I bet Jonas would have cried over a squirrel the same way Daddy did. We would have marveled over how much Jonas looks like Daddy as a kid, glasses and all. We would have said it happily, instead of in hushed tones, shaking our heads.
He would be proud of me too. That I write. That I meditate. That I play music. He gave me those.
And he gave me West Virginia, going back there, building our house. He gave me a childhood in the woods, climbing trees, freedom. Adventures by myself and with my friends. A sense of belonging and place that I feel wherever I am. That I feel in my blood, in my bones when I listen to old bluegrass songs. A place I will never stop writing about, that even when I'm not writing about, is the part of me that I write from.
So I spent the $50. I'll learn to play mountain music. I'll keep writing about the magic in those hills that you can only find as a child, alone, but that stays with you forever if someone gave you the gift of freedom there to find it.
I can't give West Virginia to my own children. And there are so many things Daddy never got to give me. But he gave me music. He gave me meditation. He gave me writing. He gave me West Virginia. He gave me parts of my children– blonde hair, astigmatism, occasionally broody moods, sentimental tendencies. So I'll make sure to give them, the great joys of my life, what I can. We'll meditate. When we go outside I'll do my best to remember the importance of giving them freedom to explore. Maybe one day they'll read my stories. And maybe they'll feel mountain music in their bones.
And then there rose in me,
like the earth's empowering brew rising
in root and branch, the words of a dream of you
I did not know I had dreamed. I was a wanderer
who feels the solace of his native land
under his feet again and moving in his blood.
I went on, blind and faithful. Where I stepped
my track was there to steady me. It was no abyss
that lay before me, but only the level ground.
-Wendell Berry, from The Country of Marriage