We just got back from an awesome two weeks in West Virginia! It was so nice to spend so much time there and not feel like our visit was rushed at all. We did so many fun things! Sadie got to come, too, which was so nice. I love spending time with her and traveling with a nanny is great!
The first week, we stayed at my cousins' place and Jonas and Josie had so much fun with their cousins Jackson and Alice, who are just a little older than each of them.
We went to the river, the park that I loved when I was a kid, and the wildlife center.
The second week we were at my mom's. We explored caverns, walked on a river trail, played in the kiddie pool and at the splash pad, ate outside at the beautiful land where my stepdad lives, caught fireflies, and more! I even got to go to a meditation meetup with my mom and Jared and I went on a date! We also got to see my mom perform a ukelele show!
Jonas got to sleep on a cot in my mom's walk in closet with a star lamp projecting on the ceiling and he loved it.
I love seeing Jonas and my mom together.
On the 29th, a BUNCH of family from New York drove down– cousins, their kid, two sets of aunts and uncles, and my Grandpa. We all went to the Greenbrier to look at the grounds and Josie and her cousin Malcolm had a baby date at a pretend diner in the toy store.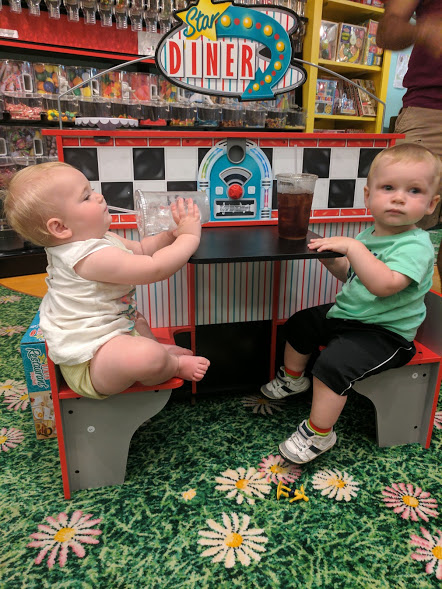 Jonas had a little bit of a hard time with the routine change and having to share toys so much so he had some moments of acting out, but overall, he was still a great traveler. Josie was a dream traveler– she barely complained about anything except a few times in the car when we'd been traveling all day and she was really tired. Even in the Denver airport when we'd been traveling for over 12 hours, it was midnight, and our flight was delayed by two hours, they were both great!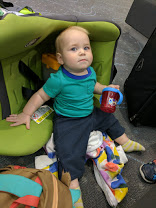 It was so nice spending so much time with so much family and going on a long trip together!