Jared and I started throwing up the night of the 23rd and on Christmas Eve we were both miserable. Jonas still wasn't feeling great and thankfully was happy to snuggle and watch Thomas the Tank Engine holiday specials all morning. My awesome father-in-law brought us Gatorade and Saltines. I ended up going to urgent care because I couldn't keep any fluids down at all. Jonas was great the whole time and the nurses gave Jared a glove to blow up for him and printed some Santa coloring sheets.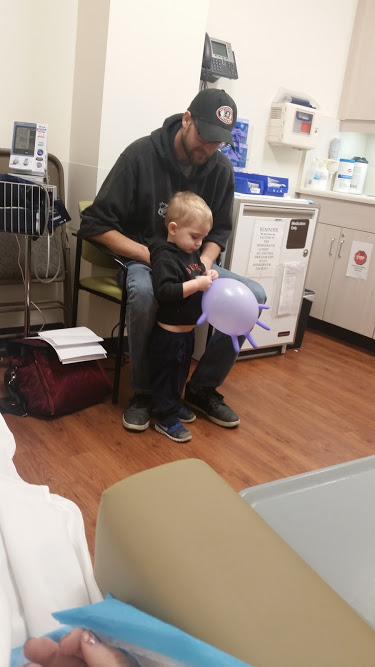 Sadie and Hernando still came over that evening– very brave! Thankfully, in the morning, Jared and I were both feeling much better, and could actually enjoy watching Jonas open presents. He had been asking for a candy cane and I kept telling him maybe Santa would put one in his stocking. He did!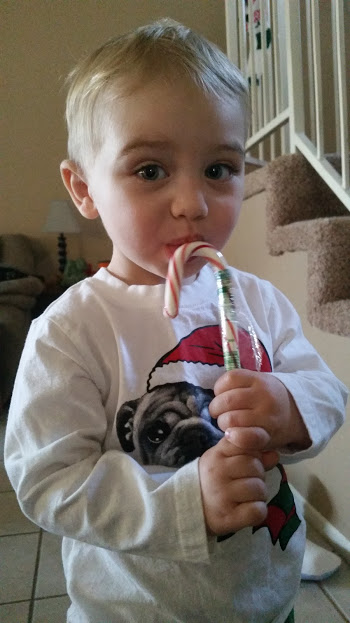 We didn't get to go celebrate at Aunt Shannon's house on Christmas and we were all disappointed. Jonas had been asking to see his cousins for a few days. It was so fun to see him get excited about opening presents, though, and he did a great job tearing the wrapping paper off himself! Santa came through and brought him his Muddle and Match: Imagine book!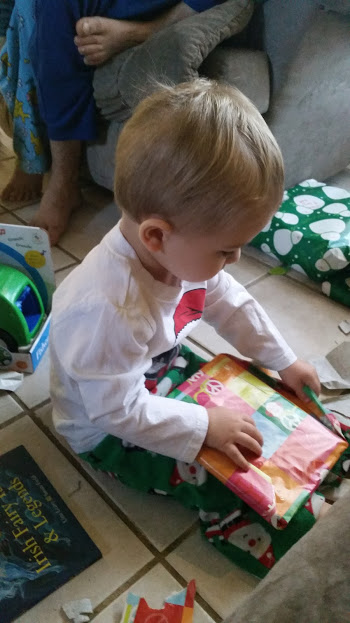 Sadie got him a vet kit and book and Mommy and Daddy got him a doctor kit and book and he loves pretending to be a doctor and do "surgery" on the puppy he named Finchy.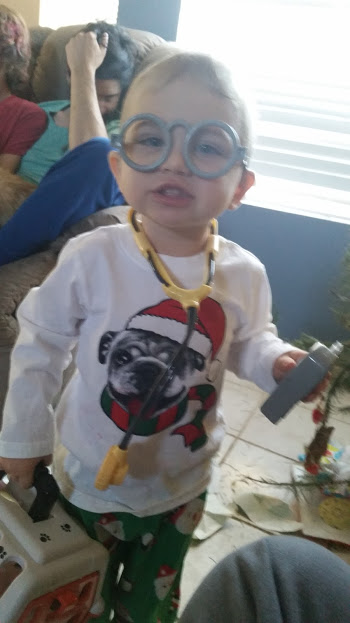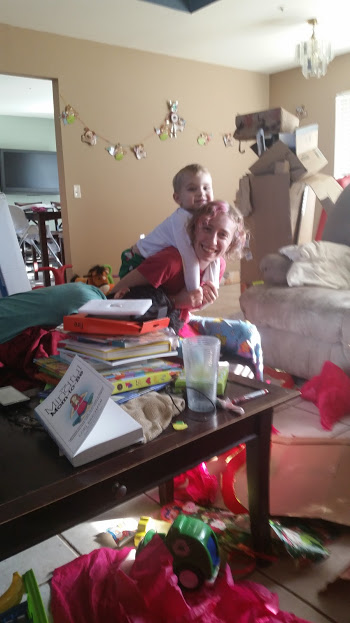 Jonas liked playing with wrapping paper just as much as he liked playing with his presents, I think.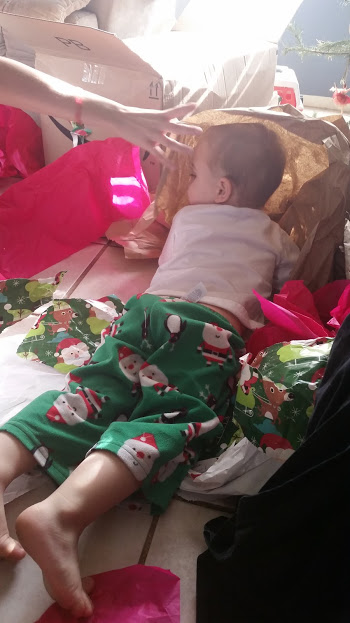 We had been too sick to read it the night before, so Jared and Jonas did the annual reading of The Night Before Christmas on Christmas evening.
Jared's Aunt Lisa passed away on Christmas evening, so we were all really sad about that. It was definitely not the Christmas we had planned but I was still thankful to get to spend it with my family and to be surrounded with love.
Jonas forgot about the chocolate Santa in his stocking for a few days, but then remembered. I told him he could have it after dinner that night and as soon as dinner was over, he asked for it. They were always Aunt Sadie's favorite and I think he liked it too!