We spent November 20-29 in West Virginia with my family for Thanksgiving. Jonas did a great job with all the traveling and while we were there and it was so fun introducing him to everyone, especially his great grandma! On Thanksgiving day there were four babies in the house, all third cousins, and that was really fun!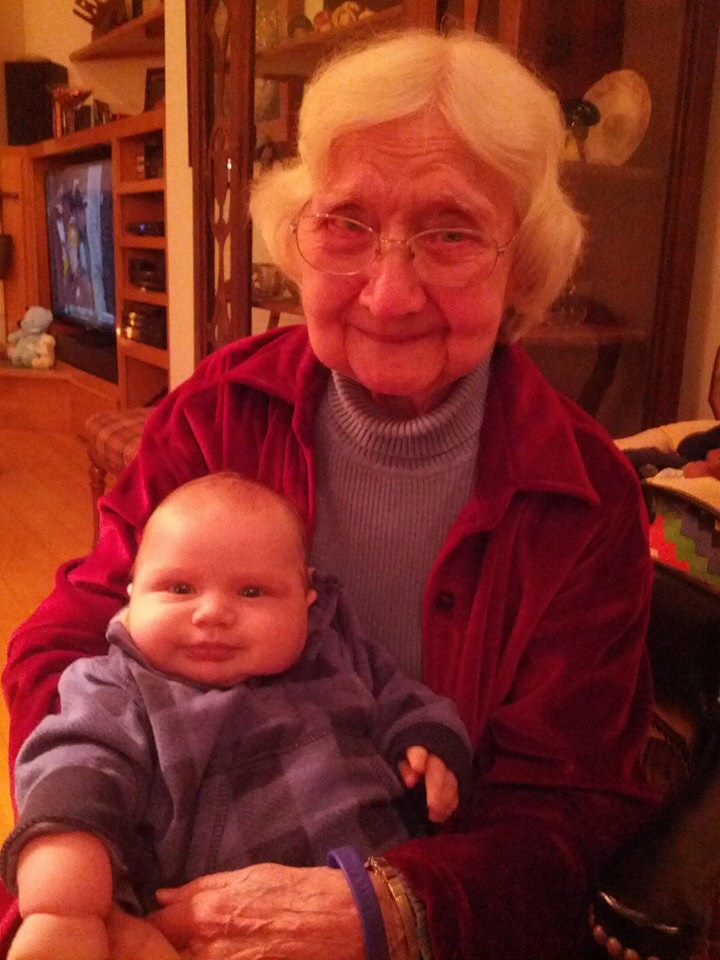 Jonas is getting so much more alert and interactive now, too, and it was really nice that Jared got to take time off of work and go on the trip and bond with him!
All the things to be thankful for have me thinking a lot about being mindful– about how to be as present as I can for all of it. Then I realize I am thinking so much about being present that I am letting it distract me from BEING present! So tonight, I tried a little exercise based on one of the mindfulness practices I learned during childbirth preparation: see, hear, feel, breathe.
While nursing Jonas, I just looked at him. I looked at the way his hair fluffed up, his sweet eyes squinting closed, his soft hand with the dimples under each finger. Then I listened to him– his breathing and the other little noises he was making. Then I paid attention to all the places my body was touching his– his nursing, my hand under his hair, my arm against his warm back. Then I took a breath, paying attention to the in breath and out breath. I spent a few breaths with each section of the exercise, but you can switch between them with each breath if that is easier. It was easier to practice mindfulness when I focused on concrete things, rather than just telling myself over and over "be present! be present!" and stressing myself out about whether I was doing it well enough.
I will be trying to take more "see, hear, touch, breathe" moments.
What a sweet baby to look at, listen to, hold, and breathe with.